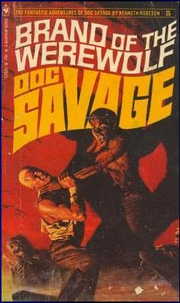 Doc Savage
and his aides are on their way to spend a well earned vacation in the Canadian wilderness and visit Doc's uncle,
Alex Savage
, and cousin, Patricia. Alex Savage owns a large wilderness area on the Canadian coast where he retreats to "get a way from business" and hunt and fish. The only communication with this retreat is by mail that is dropped of by a trader in a buoy.
Doc Savage and the gang decide to travel there by train. Unknown to them, a man, Señor Oveja and his daughter, Señorita Cere Oveja, and their friend who is known as El Rabanos, have been convinced that Doc Savage is going to kill them. The train ride turns deadly as Señor and Señorita Oveja are attacked; they are found by Doc still alive despite being gassed and garroted. Four of Doc's aides are also knocked out by gas. At the scene of each attack is a peculiar werewolf symbol, thus the name of the adventure. These attacks are followed by the conductor being murdered, and the train stopping suddenly, allowing several passengers to slip off into the wilderness to avoid the RCMP.
When Doc finally arrives at his uncle's cabin, he finds more trouble afoot as he discovers first, his uncle's grave, then a dead Indian servant, Boat Face, who had been murdered, evidence that his young cousinand her Indian servant, Tiny, had been kidnapped, and more of the strange werewolf marks.
All of the events revolve around a mysterious Ivory Cube that Doc's uncle, Alex Savage, found several years earlier on a ledge with several skeletons. It is the key to a lost treasure galleon of immense wealth that was sent from Panama to avoid being taken by the pirate Henry Morgan in 1671.
Despite its title, there are no werewolves in the story, nor are there any supernatural elements.
The Brand of the Werewolf introduces Patricia Savage, Doc Savage's Canadian cousin, who went on to become a frequent companion as well as one of the more popular characters in the Doc Savage series.