"What is the general picture?" doc asked, interested.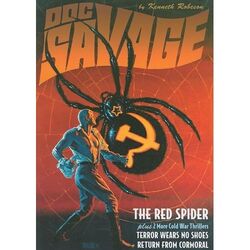 "Not good," Ham said. "There's more bestiality than efficiency. But don't get me wrong—on the side of bestiality, there is plenty of efficiency."
"You're not just speaking as a capitalist?"
"No," Ham said. "I'm speaking as a guy who wishes the human race would come to its senses and stop letting cold-blooded tyrants cut its throat." from The Red Spider, by Lester Dent writing as Kenneth Robeson, first published by Bantam Books in 1979.
The Red Spider is distinctly different than the typical Doc Savage novel. It is a spy thriller, with Doc, ham and Monk running a covert operation within the Soviet Union. They are seeking the one man prepared to take over in the event that Stalin dies. And interrogate him.
It is also unique that it was the last Doc Savage novel to see print that was penned by Lester Dent, although not the last one that he wrote. Between the time the outline for The Red Spider was accepted and the completed work was turned in, the editorship had changed, and the new editor, Daisy Bacon, rejected it, pointing out a desire to return to the early format of Doc Savage adventures, rather than pursuing Cold War era espionage.
In the Nostalgia Ventures publication of The Red Spider, an accompanying article points out that expectations of the editors to return to high adventure, rather than Cold War espionage, may well have been a blow to Dent's renewed enthusiasm for the series.
The writing style is also significantly different than earlier Doc Savage novels; more mature, taut prose. It is one of the best written Doc Savage adventures written.